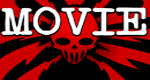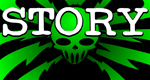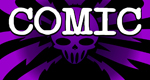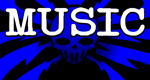 You Support This Site
When You Buy My Books
E.C. McMullen Jr.
PERPETUAL
BULLET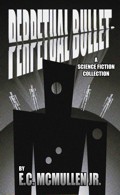 "'Some People' ... may be the standout story in the book."
-

John Grant

, Infinityplus

E.C. McMullen Jr.
WILLOW BLUE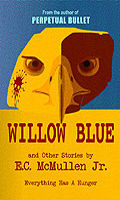 "'Willow Blue' will burrow under your skin and stay there long after you've put the book down."
- Jeffrey Reddick, Creator of
FINAL DESTINATION

IN OTHER BOOKS
E.C. McMullen Jr.'s
short story
CEDO LOOKED LIKE PEOPLE
in the anthology
FEAR THE REAPER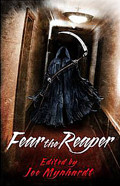 "This Ray Bradbury-esque is one of the most memorable and one of the more original stories I've read in a long time."
- Steve Isaak,
Goodreads

HORROR 201:
The Silver Scream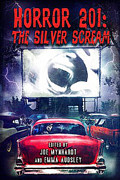 Filmmaker's Guidebook
featuring
RAY BRADBURY,
JOHN CARPENTER,
WES CRAVEN,
TOM HOLLAND,
E.C. McMULLEN Jr.,
GEORGE A. ROMERO,
and many more.



Extensively quoted in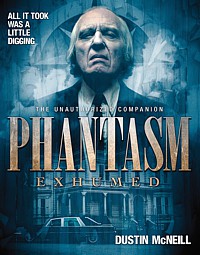 PHANTASM
EXHUMED
The Unauthorized Companion

Robert S. Rhine's
SATAN'S 3-RING
CIRCUS OF HELL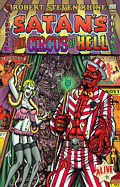 Forward by
GAHAN WILSON &
FEO AMANTE.
Featuring comics by
ALEX PARDEE,
WILLIAM STOUT,
STEVE BISSETTE,
FRANK DIETZ,
JIM SMITH,
FRANK FORTE,
ERIC PIGORS,
MIKE SOSNOWSKI,
OMAHA PEREZ,
DAVID HARTMAN,
STEVEN MANNION,
and more!

And
IN CINEMA


E.C. McMullen Jr.


Head Production Designer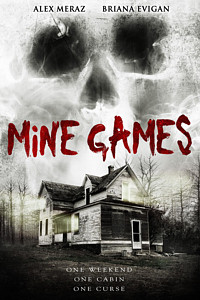 MINE GAMES


(Starring:
JOSEPH CROSS, BRIANA EVIGAN,
ALEX MERAZ)

Dept. head
Special Effects Make-Up
(SFX MUA)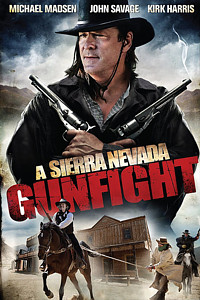 A SIERRA NEVADA
GUNFIGHT
(MICHAEL MADSEN & JOHN SAVAGE).

Production Designer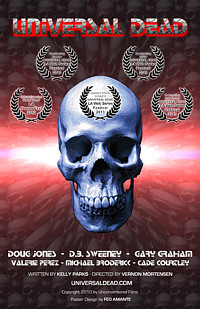 UNIVERSAL DEAD
(DOUG JONES,
D.B. SWEENEY,
GARY GRAHAM)

ART DIRECTOR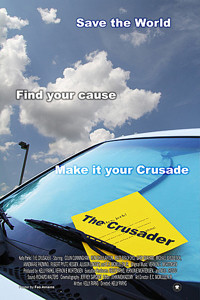 THE CRUSADER
(COLIN CUNNINGHAM,
GARY GRAHAM)
Review by
Ken King

QUARANTINE

- 2008
USA Release: Oct. 10, 2008
Televisión Española (TVE), Televisió de Catalunya (TV3), Canal+ España, Filmax Entertainment, Andale Pictures, Vertigo Entertainment, Screen Gems
Rating: USA: R
"Tape everything; you hear me? Tape everything!!"
-Angela Vidal
Everyone… can I have your attention, please…? Ladies and gentlemen…your attention…? I have an announcement to make:
REC AND QUARANTINE ARE NOT ZOMBIE MOVIES!!!
If any of you have seen 28 DAYS LATER and 28 WEEKS LATER the Spanish REC and its American remake, QUARANTINE, are more in line with those latter films than they are with George A. Romero's dead series. The high-speed killers in all four of these flicks are very much ALIVE. They are disease carriers that spread their particular virus that is an instant death sentence for those infected and to those around them, whether the victims are torn asunder, or somebody with a gun blows any of them away.
Get it? Got it? Good.
Now…let us move on and no more of this foolish debate about Zombies. If you want the dead sprinters, go watch RETURN OF THE LIVING DEAD or DAWN OF THE DEAD. No lively re-animated corpses in these here parts.
Angela Vidal (Jennifer Carpenter: LETHAL EVICTION, THE EXORCISM OF EMILY ROSE, DEXTER [TV], GONE, THE FACTORY) who is a television personality for a late night news magazine program in Los Angeles, is shooting an expose' on the nightly duties of a local fire department along with her cameraman, Scott Percival (Steve Harris: THE SKULLS, MINORITY REPORT, AWAKE [TV], IN YOUR EYES, THE SANTA CLARITA DIET [TV], THE FIRST PURGE) and are to shadow two firemen, Jake (Jay Hernandez: JOY RIDE, HOSTEL, GRINDHOUSE, SIX DEGREES [TV], HOSTEL II, LAKEVIEW TERRACE, QUARANTINE, LAST RESORT [TV], THE EXPANSE [TV], SUICIDE SQUAD, SCANDAL [TV], BRIGHT [TV]) and Fletcher (Johnathan Schaech: WOUNDINGS, THE FORSAKEN, BLOOD CRIME, MUMMY AN' THE ARMADILLO, 8MM2, PROM NIGHT [2008], Masters of Horror: THE WASHINGTONIANS, PROM NIGHT, LAID TO REST, [all], BREAKING AT THE EDGE, DARK CIRCLES, STAR-CROSSED [TV], FLIGHT 7500, VICE, THE CULLING, NOCTURNA, JACKALS, DAY OF THE DEAD: BLOODLINE, THE NIGHT CLERK) as they go about their duties whatever they might be.
A lot of what Angela and Scott tape are light duties and the firemen all playing various indoor sports, and eventually, Angela gets pulled into the fun activities. She keeps hoping for a call that she and her cameraman can go out on, even if it is a minor one. Her wish is soon granted. A call comes in about a distress signal concerning an apartment building and the firemen and the late-night television crew of two are on their way.
When the fire department and the late night people show up, the building's manager, Yuri Ivanov (Rade Serbedzija: STIGMATA, BATMAN BEGINS, THE FOG [2005], MOSCOW ZERO, THE EYE [2008], HARRY POTTER AND THE DEATHLY HALLOWS Part 1, 24 [TV], X-MEN: FIRST CLASS, STRANGE ANGEL [TV], AGONY, PAYBACK [2021]) and the first cops to arrive on the scene, Officers McCreedy (Andrew Fiscella: THE BLACKOUT, NEW ROSE HOTEL, VACANCY, PROM NIGHT [2008], ALPHABET KILLER, THE FINAL DESTINATION, A NIGHTMARE ON ELM STREET [2010], NANNY CAM, HOT, CRAWLSPACE [2016], ) and Wilensky (Columbus Short: Steven Spielberg's WAR OF THE WORLDS, WHITE OUT). A brief exchange is shared about a distress in one of the apartments and then the seven go into the building. The cops are less than enthused about reporters being there to record everything and to more than likely, "get in the way."

The police say they are there because tenants were complaining of screams and loud noises coming from an apartment on one of the upper floors. Ms. Espinoza (Jeannie Epper: WARNING SIGN, KILL BILL VOL. 2, EVILUTION) lives in said apartment and lives alone, so it bore investigating.
The cops, firemen and reporters head upstairs. It is apparent from the moment they break into the apartment, there is something definitely wrong with Ms. Espinoza. Although attempts are made to calm the woman and telling her that help is on the way, she attacks them and bites McCreedy in the throat. She is pulled off and knocked out.
Everybody hustles back downstairs with the injured officer as they are heading to the exit, other cops outside and heavily armed soldiers, that weren't there before, are there now telling everybody to calm down that help will be arriving soon. Helicopters are flying about and shining spotlights. A crowd has gathered outside, and real press is milling about. It is a very tense scene. Puzzled, our intrepid group takes the injured officer to a room to examine his injuries and to get him relaxed.

Soon thereafter, Fletcher, crashes the party, but not in a way he would have preferred to. He then joins the severely injured officer in the back room. Upstairs everyone goes again to find a very bloody Ms. Espinoza in attack mode. She gets a few bullets for her troubles.
A veterinarian, that lives in the building has been promoted to the position of chief physician by Wilensky. of the makeshift back room hospital. His name is Lawrence (Greg Germann: CHILDS PLAY 2, SO I MARRIED AN AXE MURDERER, CLEAR & PRESENT DANGER) and his diagnosis is rabies, but a strain he has never seen before. This form of the disease acts within moments whereas the conventional disease might take up to a week to start showing symptoms.

Wilensky, having heard everything about their plight that he needed to hear, hustles all tenants to the ground floor and that they are going to find out who is and who isn't infected. There is a sick little girl named Briana (Joey King: THE DARK KNIGHT RISES, FARGO [TV], THE CONJURING, CREEPSHOW [TV], SLENDER MAN) whose mother, Kathy (Marin Hinkle, THE EX, DECEPTION [TV], THE HAUNTING OF MOLLY HARTLEY, HOMELAND [TV], KILLING CINDERELLA) insists she just has a fever and nothing more.

The tenants make other attempts, of course, to get out of the building, but it is met with stiff resistance. The soldiers cordon off the building and cover it with large plastic sheeting. Anyone trying to get out will be shot immediately. No exceptions. And just to show they are serious as a heart attack, the authorities outside of the apartments, cut off all creature comforts to the building. This includes, but not limited to, cellular signals, cable, water and eventually, electricity.

The CDC is sent in and a very short time later, the attacks begin. Not from anything outside, but from the infected inside. It's not pretty and it takes all the uninfected can do not to become victims themselves.
All during this chaos and massacre, Scott, as he was instructed, records everything.

One of the CDC guys tells the remaining tenants that a dog was taken to the vet with rabies after it had been bitten by a rat. It went apeshit at the vet and infected all the animals and people alike. They shot the dog and found out it came from this building when authorities read up on the canine's information after being put down. Kathy's husband and Briana's father took their dog, Max, to the vet…all eyes turn to the woman and her daughter.

Seconds later, comes the beginning of the end.
This was a well shot film, especially, when the folks outside cut the lights. If the shadows and dark spots were spooky before this, it got even more so. Nothing is more horrifying than when some creature, covered in blood, bursts out of the dark and into the light ready to tear you limb from limb and you have only a split second to react.

I read that the directors of REC (2007) were less than ecstatic about the outcome of QUARANTINE.
I would like to know why. It's an almost frame-by-frame remake for the American market. That's all. Director John Erick Dowdle (AS ABOVE, SO BELOW, DEVIL, THE POUGHKEEPSIE TAPES, FULL MOON RISING, NO ESCAPE) changed a thing or two, here and there, but the film is almost a clone of its predecessor, released only a year before. I can see where Juame Balguero ([REC2], THE VAULT, DARKNESS, MUSE, FRAGILE) and Paco Plaza ([REC 3]: GENESIS, A CHRISTMAS TALE, EYE FOR AN EYE, VERONICA, ROMASANTA: THE WEREWOLF HUNT) who both directed and wrote the first movie would have a problem, sure.
If you go back over cinematic history such is always the case. As I stated in another review, remakes/reboots are going to happen. It's just a fact of life, now. If Hollyweird has their way, everything would be made as close to its former sources as possible with it being updated for familiarity to modern viewing audiences. I just grin and bear it now and judge films, original, or remakes, as fairly as I can, and then move on to the next one.
That's all you really can do and so I shall until I can no longer do it.

FINAL THOUGHTS
Honestly, I am more down with the American remake than I am with the Spanish version of this movie (bracing for the barrage of stones coming my way). There are two reasons for this.
One, subtitles aren't the thing that killed me where it came to REC. Subtitles placed in spots where a lot of intense scenes were going on and several people talking over each other in Spanish, when you could capture only one character's voice, bothered me. I want to at least get the gist of what several characters are going on about in a scene. That's a fair request, I think. I don't care how inconsequential as to what's being said that the film makers think is important, or not. If you can't accomplish this properly, then don't do it at all. Period.
And lastly, number two, a rabid dog becomes a very bad day for someone. I have said it once, I will say it a thousand times: Death in movies that is brought about by an axe, shotgun, or a dangerous animal (Rabid dogs definitely count) automatically receive a one Shriek Girl from me. Movies about disease, yet another. Then there's suspense, acting, believable characters. Check, check and check.

QUARANTINE gets Five Shriek Girls across the board.






This review copyright 2021 E.C.McMullen Jr.