Page 1 !!!THE SCIENCE MOMENT!!!: AVATAR
TECHNOLOGICAL
- Continued
AVATAR on the other hand, employs futuristic tech of the year 2154 that is obsolete, Right Now!
For example, in AVATAR, we see that computer monitors are all holographic, futuristic, right? We already saw that eight years ago in FINAL FANTASY: THE SPIRITS WITHIN, but cool all the same. Then we see character Jake Sully recording his video diary on a camera & sound system that is about the size of an old VHS tape cassette. The hell?
Is there anyone who has bought a laptop computer in the past few years that has a camera and microphone?
Hell, forget laptops, let's talk about cell phones. You know what I'm talking about here, right? 2007-2009 cell phones with video camera, microphone, and a display screen to watch videos, look at stills, or play games. Size is slightly more than a standard business card and thinner than a DVD case.
In the year 2154 AVATAR, they have a big and boxy camera by comparison and even worse, the camera needs to be mounted on a heavy duty retractable arm and you can't watch videos or play games on it. It just records sight and sound. What was James thinking?
They have spaceships built upon the 1960s design for a Rockwell space shuttle! It EVEN has the black trim indicative of heat resistant reentry tiles.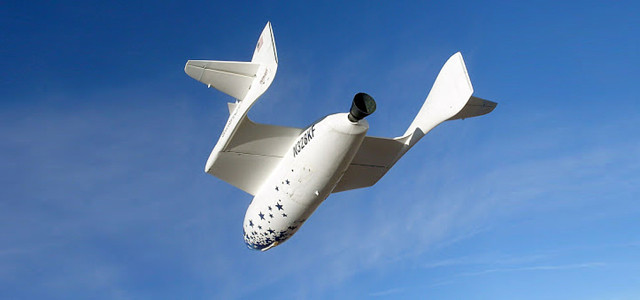 By 2154, we somehow lost the 21st Century technology to do this...
(Photo: Scaled Composites)
The hell? Back in 2005, SpaceshipOne advanced the atmosphere reentry technology. It left and re-entered our stratosphere without the need for heat shields.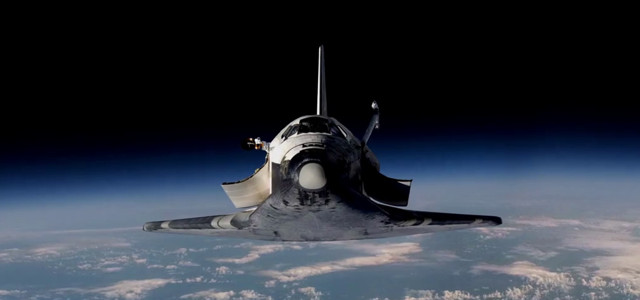 ...and are forced to resort to the mid-20th Century technology of this...
(Photo by NASA)
That was in 2005 and the technology has advanced since then. We don't have it in 2154? Oh, but we DO have Faster Than Light drives?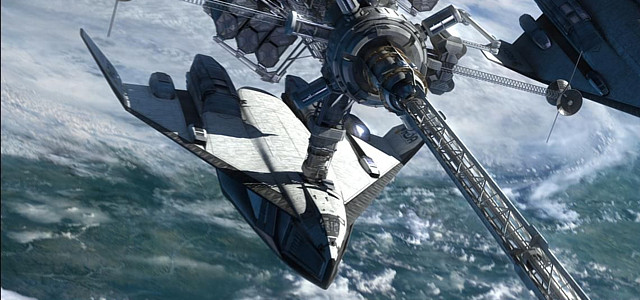 ...according to AVATAR.
(20th Century Fox)
Did you know our building construction technology is moving at an ever faster rate?
In the 1950s, skyscrapers were monoliths of stone and concrete walls, built on a scaffold of iron and more concrete. In the 1960s, skyscrapers removed the concrete walls, kept the concrete for frame and iron scaffolding, and built their walls out of glass. In the 1990s, skyscrapers moved from concrete frame and iron scaffolding to just iron frame and concrete scaffolding.
And what about what was going on within those skyscrapers? Just in communication tech alone, consider: In the 1980s, skyscrapers were built wired with copper lines for their telephones.
In the 1990s, skyscrapers were built wired with clear fiber optic filament.
In the 2000s, skyscrapers are doing away with communication wires altogether and are incorporating wireless. Don't you wonder what 2010 will bring? Well in AVATAR, orbiting space stations will be made the same way 150 years from now as they are now, with shiny metal scaffolding. In fact, there won't be any noticeable difference between orbiting space stations 150 years from now, and the 20th Century design of the International Space Station (ISS) today.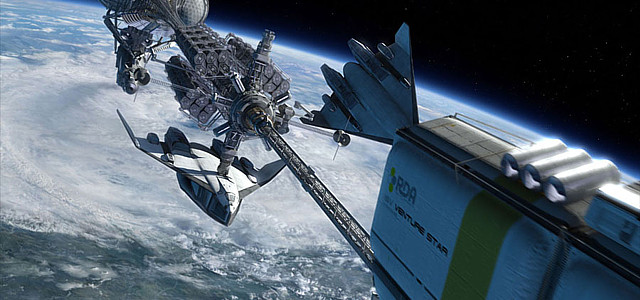 So why has 22nd Century Space Station Technology ...
(20th Century Fox)
Think about that! Extrapolating from a century ago in 1909 when we had no spaceships or jet propulsion our technology has come a long way (microchips? We didn't even have transistors! Hell, we didn't even have the first true electronic vaccuum tubes - Irving Langmuir's Pliotron for General Electric - until 1915!). As the decades pass, technology advances ever faster.
In fact, technological achievement moved faster in the last 50 years of the 20th Century (more than tripled) than it did in the prior 50 years. What's more, the technological advancement of the last 20 years moved far faster than it did in in all of human history (and most of it was actually based on theories and inventions first advanced in the 1950s!).
Think about this: 8 years.
Your tiny 2009 cell phone is a far more advanced home computer, sound recorder, game player, stereo system, video camera, video still camera, GPS tracking device, radio, walkie-talkie, AND telephone than Anything! Anyone! Regardless of Wealth! could have bought in 2001!
Your phone can store more high quality photos than any film camera ever could, and can store over 500 CDs worth of 7.1 high fidelity digital quality music and video on a memory card the size of your fingernail. If you have a mere 8 gig memory in your cell phone, it can store up to 6 full length feature films of Standard Definition quality. And we're just talking about a cell phone.
That is just ONE thing!

!!!THE SCIENCE MOMENT!!!: I WANTED TO LOVE IT
This article copyright 2009 - 2010 by E.C.McMullen Jr.