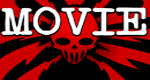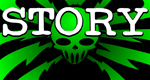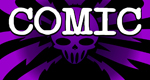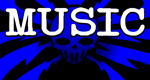 You Support This Site
When You Buy My Books
E.C. McMullen Jr.
PERPETUAL
BULLET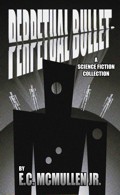 "'Some People' ... may be the standout story in the book."
-

John Grant

, Infinityplus

E.C. McMullen Jr.
WILLOW BLUE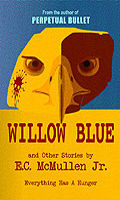 "'Willow Blue' will burrow under your skin and stay there long after you've put the book down."
- Jeffrey Reddick, Creator of
FINAL DESTINATION

IN OTHER BOOKS
E.C. McMullen Jr.'s
short story
CEDO LOOKED LIKE PEOPLE
in the anthology
FEAR THE REAPER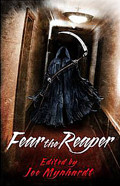 "This Ray Bradbury-esque is one of the most memorable and one of the more original stories I've read in a long time."
- Steve Isaak,
Goodreads

HORROR 201:
The Silver Scream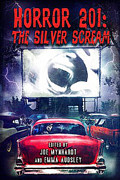 Filmmaker's Guidebook
featuring
RAY BRADBURY,
JOHN CARPENTER,
WES CRAVEN,
TOM HOLLAND,
E.C. McMULLEN Jr.,
GEORGE A. ROMERO,
and many more.



Extensively quoted in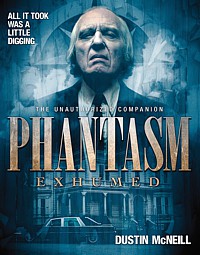 PHANTASM
EXHUMED
The Unauthorized Companion

Robert S. Rhine's
SATAN'S 3-RING
CIRCUS OF HELL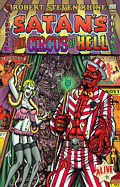 Forward by
GAHAN WILSON &
FEO AMANTE.
Featuring comics by
ALEX PARDEE,
WILLIAM STOUT,
STEVE BISSETTE,
FRANK DIETZ,
JIM SMITH,
FRANK FORTE,
ERIC PIGORS,
MIKE SOSNOWSKI,
OMAHA PEREZ,
DAVID HARTMAN,
STEVEN MANNION,
and more!

And
IN CINEMA


E.C. McMullen Jr.


Head Production Designer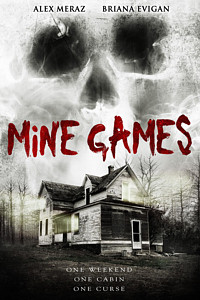 MINE GAMES


(Starring:
JOSEPH CROSS, BRIANA EVIGAN,
ALEX MERAZ)

Dept. head
Special Effects Make-Up
(SFX MUA)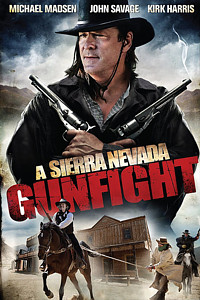 A SIERRA NEVADA
GUNFIGHT
(MICHAEL MADSEN & JOHN SAVAGE).

Production Designer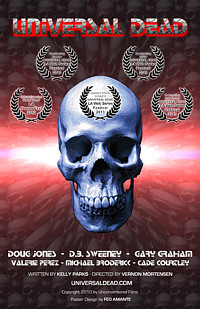 UNIVERSAL DEAD
(DOUG JONES,
D.B. SWEENEY,
GARY GRAHAM)

ART DIRECTOR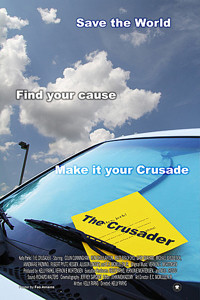 THE CRUSADER
(COLIN CUNNINGHAM,
GARY GRAHAM)
Review by
E.C. McMullen Jr.

GIVE THIS SITE ETERNAL LIFE


TIP JAR




Bram Stoker's DRACULA

- 1992
USA Release: Nov. 13, 1992
Zoetrope Studios
Ratings: USA: R
I confess, the myth of Dracula or any vampire as a tragic figure, one deserving of sympathy, never appealed to me. Yet that's never compromised my love for a good vampire story.
Just as GODZILLA fans love watching the impossibly big dino tearing ass through a city, so I enjoy reading about, or watching, the repulsive blood-sucking parasite get gruesomely burned, staked, beheaded, and/or otherwise slaughtered at the end. I cheer for the heroes and heroines, perfect or flawed as they are, to win the day for humanity and justify their value. For me, the story can be boiled down to Bram's simple plot: The vampire's power is that we will not believe in him.
Modern adaptations have rendered the vampire as a godling, one with nearly unlimited strength and resources, and few weaknesses. Stephen King's 'SALEM'S LOT comes immediately to mind. Stoker's Dracula was a fragile creature that needed enchantments, for shifting abilities and more, to get past the technological advancements of a prey that had outgrown him over the centuries. Like Mary Shelley's, THE MODERN PROMETHEUS (FRANKENSTEIN) before it, DRACULA was Stoker's attempt at destroying myth and superstition with science and reason. Unlike Shelley, Stoker wanted to pretend that the supernatural was real - not imagined. His novel was a tour de force of the real battle between the rational and the irrational.
Stoker's Dracula had no problem with daylight. He was a creature of darkness, his powers were greatest at night or in shadows; but he could walk around in the day "same as any other creature".
In the 1990s, and thanks to Actor Winona Ryder, Producer/Director Francis Ford Coppola (THX 1138, FRANKENSTEIN [1994], SUPERNOVA, THE VIRGIN SUICIDES, SLEEPY HOLLOW, JEEPERS CREEPERS, JEEPERS CREEPERS II) got ahold of a television script for Dracula: The Untold Story. Reeling from several film failures that put his studio, Zoetrope, deep into debt and trouble, Coppola desperately needed a hit.
But by the 1990s, Dracula movies had been done to death: Even vampire movies that brought Dracula into modern times (which in fact, is exactly what Bram Stoker's Dracula did - for its time). One thing that no one had really tried to do, however, was actually make Bram Stoker's Dracula the way that old Bram really wrote it.
DRACULA (1979) with Frank Langella, you say? Pish posh! That was a mere retelling of Universal Pictures' Dracula, not Bram. Bother me not with such trivia.
Anyway, this then, was likely Coppola's last chance in all respects. If his next picture failed, he would be seen as a has-been. Still respected for his Godfather films and others, but a has-been all the same. Hollywood is littered with those and they usually wind up on game shows. Francis was willing to do whatever it took to realize both his vision, Stoker's vision, and the vision of screenwriter, James V. Hart (LARA CROFT: TOMB RAIDER). At the same time, the movie was an opportunity to work with Ryder, whom he'd wanted in The Godfather Part II (she got the part, then backed out, and various writers have various reasons as to why).
Whew! A lot riding on this flick, eh?
So first you have to pare the thick novel down to its bare bones. Out went all of Stoker's subtleties. This movie would be as rambunctious as a Ken Russell movie. In fact, it was Coppola's heavy-handed, special effect extravangaza style of telling even the simplest of stories that kept audiences away and put him in debt in the first place.
But still,
if you can't go over the top with a classic monster tale...
... ahh, shut up!
In 1992, while audiences may not have seen his films in theaters, lots of folks had watched his disasters on cable, or rented video and word spread. If only that bombastic flair could be applied to a story wot could use a good technicolor punch!
TRIVIA
An Extra recalls his days on the set of
Bram Stoker's DRACULA.
The Great New England Vampire Panic
By Abigail Tucker
Two hundred years after the Salem witch trials, farmers became convinced that their relatives were returning from the grave to feed on the living
Continued at Smithsonian.
What Vampire Graves Tell Us About Ancient Superstitions
By Olga Khazan
Hundreds of years ago, ignorance about decomposition and disease sparked fears that the dead returned to drink the blood of the living.
Continued at The Atlantic.

12 Historical Figures And True Stories That Directly Inspired Dracula
By Nida Sea
In the world of entertainment, the creatures known as vampires have transformed from frightening, monstrous beasts to well-groomed, glittery hunks. However, could regarding vampires as solely fictitious creatures be somewhat inaccurate? Maybe so! The truth is, some historical people were well-known and feared for their real-life vampire tendencies, and among criminals, there has been a longstanding tendency to believe they were vampires. In fact, the Irish author, Bram Stoker was said to be inspired by many real-life sources for his novel Dracula. Some of these sources for Dracula included people who were basically like Dracula in real life.
Continued at Graveyard.
The Real Dracula: Vlad the Impaler
By Marc Lallanilla
Few names have cast more terror into the human heart than Dracula. The legendary vampire, created by author Bram Stoker in his 1897 novel of the same name, has inspired countless horror movies, television shows and other bloodcurdling tales of vampires.
Continued at LiveScience.
The trailers for Bram Stoker's DRACULA were incredibly promising. The Gothic Hammer Films look, the feel, the sex and gore all promised a wonderful spectacle.
Bram Stoker's DRACULA (and believe it or not, Coppolla had to title the movie in just that way because Universal owned the title "Dracula", even though neither owned the novel! Weird is the way of copyright!) begins with narration by Anthony Hopkins (THE SILENCE OF THE LAMBS, HANNIBAL, RED DRAGON).
Prince Vlad (Gary Oldman: HANNIBAL, HARRY POTTER AND THE PRISONER OF AZKABAN, BATMAN BEGINS, HARRY POTTER AND THE GOBLET OF FIRE) is going off to defend his land - and Christendom - from the invading Turks. So off the prince goes in his red rubber suit.
An odd choice, and it really does look for all the world like molded red rubber plastic, which didn't exist in that time, but there you have it.
Remember what I said about Coppola's excesses?
Vlad's wife, Elisabeta, gets the false news that he has died in battle and, thinking that God will unite them in Heaven, throws herself off of handy parapet. She should have read her Bible a tad more thoroughly.
When Prince Vlad returns in victory and discovers his wife dead, he's terribly put out. Which means that the Christian Holy men couldn't have picked a worse time to tell the prince, "Hey, not only is she dead, but she's burning in hell forever! That's what she gets for killing herself!"
Prince Vlad is insanely dumbfounded by the Church's stance. He just saved their ass for Christ sake!
Literally for Christ's sake!
But the Church rep.'s are insistent: "Thanks for your sacrifice to the church, but the rules are the rules and your beloved bitch is going down to everlasting torment in a lake of fire! Now on your knees and give me 20 Hail Marys!"
Vlad goes nuts, swears himself to Satan, and stabs a nearby cross. Which bleeds in great gouts of heavily saturated red blood that practically dances in slow motion.
Well, that was then and this is now. Er ... actually, that was way back then and this is a century ago then - something.
A guy named Renfield has returned from the castle of Count Dracula in Transylvania. He's off his rocker and eats bugs and spiders for their "life". The company he worked for is sending their next best real estate agent, one Jonathon Harker (Keanu Reeves: THE MATRIX [all], THE WATCHER, THE GIFT), to the castle to complete negotiations. The Count over there would like to purchase the decrepit Carfax Abbey and a number of other properties. There is a promotion in it for Jonathon. The Abbey is in disrepair and smack dab next to the Carfax Sanitarium: An insane asylum where many, including Renfield, reside. Not prime real estate by any means, yet some doof in another country is willing to pay a fortune for it. Whatta great deal!
Jonathon leaves his betrothed, Mina Murray (Winona Ryder: EDWARD SCISSORHANDS, ALIEN: RESURRECTION), as he goes off to seal the deal with Dracula. Jonathon gets to Transylvania and Merry Mishaps occur.
Jonathon soon realizes that he is held prisoner at the castle Dracul. Johnny succumbs to the charms/hungers of Dracula's brides when the aged, shriveled (and quite effeminate) Dracula gives a reluctant Harker over to the goils. You might find fault in Johnny for this, but when a young Monica Belluci (THE MATRIX RELOADED, THE MATRIX REVOLUTIONS, THE BROTHERS GRIMM) rises up naked from your bed and between your legs, any het male would be damned hard put to say no.
Dracula, meanwhile, hops a boat to England, slaughters the crew, and just his very presence in London amps up Renfield's fractured mindset.
As with the novel, DRACULA, is more a creature of his own selfish desires than anything he feels for anyone else. He thinks he's found his lost love returned to life in the beautiful Mina, but his animal interest is aroused by her best friend, Lucy. It's dividing his attention between the two of them, instead of concentrating solely on Mina, that proves his eventual downfall. If Dracula wasn't so distracted between the two women he would have better understood the danger of the seemingly drunk and foolish Doctor Helsing: A performance phoned in with copious ham (did I say ham? Hell: the entire sow and its litter!) by Anthony Hopkins.
Bram Stoker's DRACULA is a wild ride and, if you are in the mood for a truly uber gothic Horror movie filled with passions, blood, sex, and gore, as well as one hell of an ugly Dracula (Stoker never made his vampire handsome), you'll find plenty to love about it.
Sadie Frost spends as much time out of her clothes as in, which is a good thing, nearly dominating her every scene. Without exception, every actor in this movie chews up the scenery. In fact, it is the set design, and not the acting, which was nominated for one of three Academy Awards. The three that won were Best Sound Effects, Best Costume Design, and Best Make-up.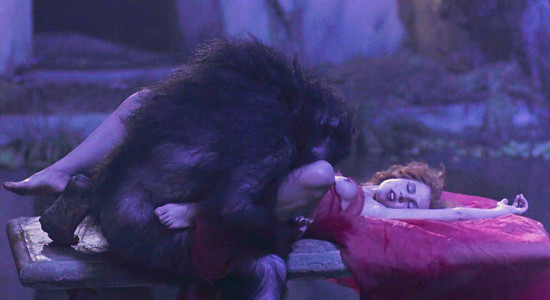 Lucy is eaten alive
That's not to say there aren't many missteps. Mina's best friend Lucy (Sadie Frost: FINAL CUT), is pursued by several suitors, each one a caricature and never fleshed out. Actor Bill Campbell's (MENNO'S MIND) performance as Quincy, the Texan, is particularly painful to watch and hear as every word out of his mouth sounds like a Tex Avery cartoon.
There is also an overabundance of narration instead of action, to speed things along, but often the narration is unnecessary as the visual alone conveys the moment and needs no verbal clutter.
Coppola saved his reputation and his studio with Bram Stoker's DRACULA, and it is a worthy addition to Horror filmmaking.
Three Shriek Girls.




This review copyright 2005 E.C.McMullen Jr.
YOU MIGHT ALSO ENJOY


(Sub-Section: OLDE WORLDE VAMPYRS)
DRACULA - 1931
MOVIE REVIEW
DRACULA - 1979
MOVIE REVIEW
INTERVIEW WITH THE VAMPIRE
MOVIE REVIEW