Review by
Kelly Parks

THE ISLAND OF DR. MOREAU

- 1996
USA Release: AUG! 23, 1996
New Line Productions
Rated: Australia: M / Belgium: KT / Brazil: 12 / Finland: K-16 / Germany: 16 / Netherlands: 16 / Norway: 15 / Portugal: M/12 / Spain: 13 / UK: 12 / USA: PG-13
"The Horror…The Horror…"
No, wait. That's too easy. Let me start again.
THE ISLAND OF DR. MOREAU (1996) was directed at first by Richard Stanley (HARDWARE, DUST DEVIL), who was fired and replaced by John Frankenheimer (THE MANCHURIAN CANDIDATE (1962), SECONDS, BLACK SUNDAY, PROPHECY). It was written by the fired Mr. Stanley and Ron Hutchinson (FATHERLAND) with a credit of course going to H.G. Wells for the story.
Edward Douglas (David Thewlis) is on a life raft somewhere near Indonesia. His opening narration explains that he and two other men have survived a plane crash and been adrift for some time. Long enough for his two boat mates to go mad and be in a fight to the death. The two fall overboard and a shark settles the fight. As the survivor tries to climb back into the raft Edward cracks his skull with an oar.
A passing Indonesian cargo ship rescues Edward and it's here he meets Dr. Montgomery (Val Kilmer: THE GHOST AND THE DARKNESS, RED PLANET). Montgomery nurses Edward back to health. When the ship arrives at Montgomery's destination, an isolated tropical island, Edward accepts an invitation to stay a few days until a better ride to the mainland is available.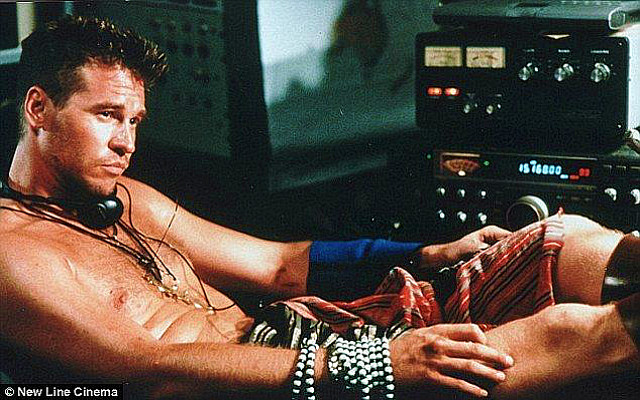 Do you think I'm sexy, Edward? Do you?
Well who cares what you think? I'm going to get all fat and eccentric like Dr. Moreau!
So... what do you think of that, Edward?
On the drive from the dock Montgomery stops and puts some rabbits in a cage sitting by the side of the road. Edward waxes poetic about a pet rabbit he had as a child but faster than you can say "dead bunny", Montgomery snaps a rabbit neck and tosses the future dinner in the jeep. This is Edward's first hint that Montgomery is just a bit wacky.
They arrive at a jungle compound seemingly devoid of people. Edward spots a satellite comm antenna but Montgomery tells him the link is out and he'll get around to fixing it any day now. Montgomery and a variety of awards displayed up at the main house (including a Nobel prize) reveal to Edward that this place belongs to Dr. Moreau (Marlon Brando: APOCALYPSE NOW), a famous biologist and genetic engineer who most people thought was dead. Moreau has been here for 17 years, driven into seclusion by those pesky animal rights activists.
We don't meet Moreau just yet. Instead, Edward meets Moreau's daughter Aissa (Fairuza Balk: AMERICAN HISTORY X, THE CRAFT) and the chemistry is . . . well, not especially noticeable. The whole place is a little weird but not X-files weird or anything. Edward doesn't get really nervous until Montgomery takes him to his room and locks him in. That's when he notices the bars on the window.
Security isn't Montgomery's thing, however, and Edward makes an easy escape later that night. You'd think he'd head straight for the docks but his curiosity gets the better of him and he decides to investigate some weird noises. Inside a separate building, among many animal cages and odd things in glass jars, Edward witnesses a group of doctor's helping a woman give birth: A goat-woman. This and many other scenes will make you think of Jim Bruer's "goat-boy" character on Saturday Night Live.
The human/animal make-up (done by Stan Winston, no less!) isn't terrible but it's just not good enough to allow for suspension of disbelief. From this point on I was never in the story and that's death for a movie like this.
Aissa makes a well-timed appearance and she and Edward run for it into the jungle. After a poorly edited chase (they duck into some trees at night but when they come out the other side it's day time) they end up at a man-animal settlement deep in the jungle.
Here we see the many unfortunate victims of Moreau's experiments, including their sort-of leader, Sayer-of-the-Law (Ron Perlman: ALIEN: RESURRECTION, CRONOS, THE SHAFT, BLADE II). And, finally, we meet Moreau himself.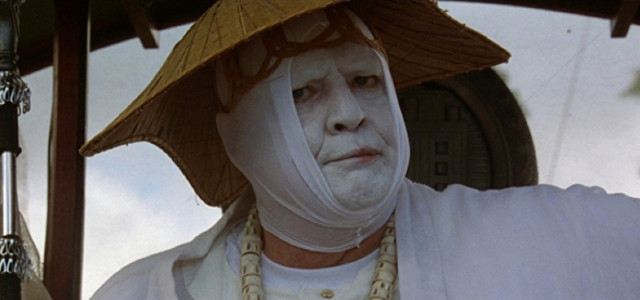 "All of humanity displeases me, and I'm Not speaking in character."
Brando's way over the top portrayal of the well-intentioned genetic scientist was probably the only way to go here. Although if it wasn't for his recent subdued role in "The Score" I would end up thinking that over-the-top was the only acting style he had left. Moreau appears covered in white sunscreen, riding in what I can only describe as a jungle Pope-mobile.
Wow, we're definitely overdue for a
TRIVIA
The original ISLAND OF DR. MOREAU movie was made in 1977 and bombed largely due to the popularity of STAR WARS which was released the same summer.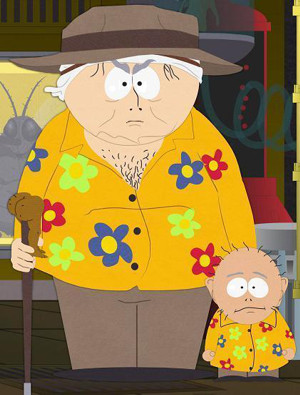 South Park Characters
Brando's Moreau and tiny Majai were the inspiration for South Park's Dr. Alphonse Mephisto and his adopted son Kevin.
!!!SCIENCE MOMENT!!!:
Human genetic engineering is going to absolutely change the world, something any sci-fi fan has known for a long time. What most people don't realize is that the technology to do this kind of thing is mostly available now, and what isn't available will be by next Tuesday.
A lot of good will come out of it, like the end of all inherited diseases and, yes, you can do things like make people smarter, stronger, better. But what is rarely talked about and what I have to give this movie kudos for showing are the side effects. If I add the genes for gorilla muscle tissue to my genome, it would probably make me the strongest man on Earth. But it might also cause a wide variety of metabolic problems, increased cancer risk, who knows what? You wouldn't know until you tried.
In other words, the only way to use genetic engineering technology to create a superhuman race is to experiment on people. That trial and error process will certainly have failures and mistakes and other bad things that make it morally indefensible to experiment on people in the first place.
Moreau, who comes across as more eccentric than evil, explains to Edward how he loves his children (all the man-animals refer to him as "father") and has been using them in his attempts to make humanity perfect. Yeah, whatever.
The movie is a mess of inconsistent characters and subplots that lead nowhere, but there are a few memorable scenes. One of Moreau's children is the very tiny Majai (Nelson de la Rosa: According to the Guinness Book of World Records, the world's smallest man) and the scene where Majai sponges off Moreau's pasty white sunscreen is bizarre in a cool way. Another great moment is when the Sayer-of-the-Law tells his flock that the law says they must behave like men. The line, "We are men, are we not?" would have been the perfect moment for a Devo song.
Also not to be missed: when the man-animals revolt Montgomery loses his mind and begins impersonating Moreau. Seeing Kilmer do his over-the-top impression of Brando's over-the-top Moreau is worth an extra shriek girl. That brings this movie's total to two, yes a generous two shriek girls.



This review copyright 2002 E.C.McMullen Jr.