Review by
Mark Worthen

KEEP THE FUN GOING!


TIP JAR




CLASH OF THE TITANS

- 2010
USA Release: April 2, 2010
Warner Bros. Pictures, Legendary Pictures, Thunder Road Pictures, The Zanuck Company
Rated: Finland: K-13 / Ireland: 12A / Singapore: PG / South Korea: 12 / UK:12A / USA: PG-13
Let's cut to the chase, shall we? After all, you read these reviews to learn whether you should go, and if you want to hear me drone on about why, you can read the rest.
I liked it.
I didn't love it, but I liked it. I'll probably buy the DVD. It was worth shelling the money I pay for the senior discount to get into.
Two caveats: First, I went in with very low expectations and came out pleasantly surprised. If you expect cardboard for dinner and get toast, that's nice, right? It wasn't steak or caviar, but it was better than what you figured you'd get. Second, I love these sorts of movies. Yeah, I'm an escapist. If I wanted to hear about having a hard time paying the mortgage or watch someone get hurt by loved ones or die tragically, I'd go through my bills or watch the news. So I go for fun.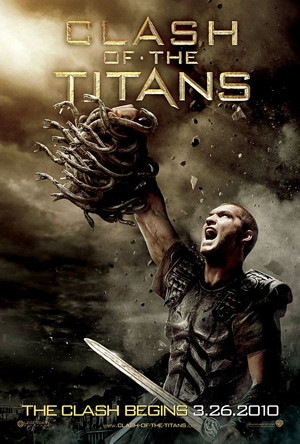 "GAZE DOWN UPON MY SNAKEY SNAKE HEAD,
YOU CRUNKIN' KRACKEN!"
CLASH OF THE TITANS was fun. Great fun, in fact.
Was it brilliantly acted? No, but it had parts that were well acted. Was the screenwriting great? It kept my attention and didn't have any plot holes I could see. You can't really ask for more than that (The hell I can't! - Feo). Was I disappointed in casting choices? A little.
Okay, so let's get into it.
CLASH OF THE TITANS is a 2010 remake of the 1981 film of the same name. The original was not a great movie, but it was well beloved, particularly among the genre and fandom communities, both for its casting and storyline, but most for its special effects. In 1981, CGI technology was not even a gleam in anyone's eye. The home computer was something you either paid through the nose for, or assembled from a kit. Using digital effects in movies?
No.
In those days you had four choices: live action, animation, or stop-motion sculpture, like Claymation. Or the brilliant work of Ray Harryhausen (IT CAME FROM BENEATH THE SEA, THE BEAST FROM 20,000 FATHOMS, 20 MILLION MILES TO EARTH, EARTH VS. THE FLYING SAUCERS, MYSTERIOUS ISLAND, ONE MILLION YEARS B.C., THE VALLEY OF GWANGI, THE SEVENTH VOYAGE OF SINBAD, THE GOLDEN VOYAGE OF SINBAD, SINBAD AND THE EYE OF THE TIGER, CLASH OF THE TITANS). Titans was Harryhausen's last big feature, and also the only feature in which he did not have to do every bit of the grunt work himself. They gave him assistants.
Wait, question? Yes?
Who was Ray Harryhausen?
Okay, let's back up.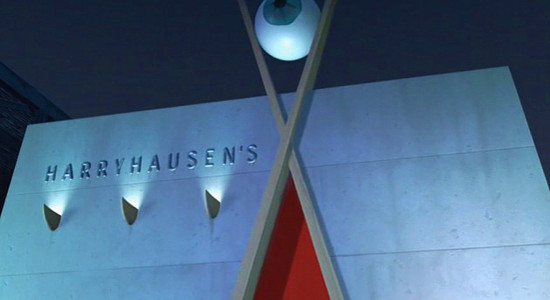 A sushi restaurant from Pixar & Disney's MONSTER'S INC.
Ray Harryhausen (IT CAME FROM BENEATH THE SEA, THE BEAST FROM 20,000 FATHOMS)
created a technique of making live actors realistically interact with special effects
that didn't exist in the shot. He called this technique, "DYNAMATION".
Especially with the advent of cgi, you have seen this technique
pretty much everywhere in cinema ever since, from TERMINATOR 2 to
JURASSIC PARK to THE LORD OF THE RINGS to AVATAR and beyond.
Special effects artists honor his name in Easter Eggs throughout a large number of movies.
Ray – and since he has such a long name, I'm going to presume first-name basis with the guy – created brilliant stop-motion effects, bringing to life some pretty dramatic monsters, including dinosaurs in One Million B.C (I have a special place in my heart for this film), moving statues in Jason and the Argonauts, and rocs and skeletons and assorted nasties in The Golden Voyage of Sinbad and The Seventh Voyage of Sinbad and a number of others. He was a pioneer and his work was ahead of its time, bordering on genius in some areas.
Did it look realistic? Not by today's standards, no. But by those of its day? Very cool and scary as hell in spots.
Back to Clash, the original. Ray produced effects (then called SFX) for the show that included the Kraken (a large sea monster), Pegasus (a flying horse), a mechanical owl (all the movies in those days had to have a little beastie to serve as comic relief), and other assorted monsters along the way. Harryhausen's effects became the star of the show, outshining the marginal acting abilities of Harry Hamlin, and even performances by the great Sir Lawrence Olivier and Maggie Smith.
Though Ursula Andress, still in her prime, did make one hell of an Aphrodite. The screenplay was passable, but there were plot holes, not the least of which being the confusing issue of the dual usage of Titan in the script. See, in English, titan means "force to be reckoned with," it also means a race of beings who were put down by the gods in order for them to take their place. The movie takes place after the Titans were all gone.
Now let's move up to today, shall we?
The focus is less on one man's journey into manhood and finally achieving his dreams, and more about the humans need to take the place of the gods the way the gods took the place of the Titans. Yes, this version maintains the confusing "titans" issue. It only mentions them in order to put forward the idea that the gods have had their time and now mankind is demanding to take their place.
Perseus, son of Zeus and a human mother, is adopted by a family of fishermen who raise him as their own, and die in the first ten minutes of the film, killed as casualties of war between the gods - represented in this case by Hades (Ralph Fiennes: RED DRAGON, WALLACE & GROMIT AND THE CURSE OF THE WERE-RABBIT, HARRY POTTER AND THE GOBLET OF FIRE, HARRY POTTER AND THE ORDER OF THE PHOENIX, THE HURT LOCKER) and the men of Argos, who have just torn down a Colossus-like statue of Hades' brother Zeus.
Most of the gods spend their time standing around talking, except for Zeus, played by Liam Neeson (EXCALIBER, DARKMAN, THE HAUNTING, BATMAN BEGINS, AFTER.LIFE) and Hades, who plot the future of man. Zeus gives his brother permission to take the war to Earth and to the gates of Argos.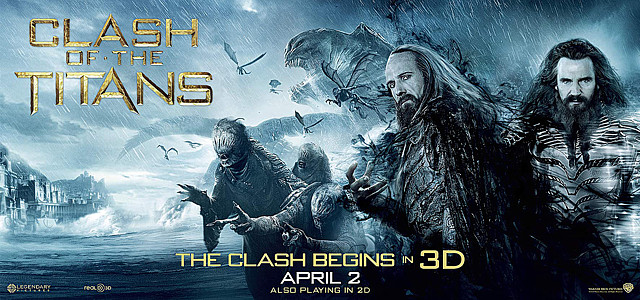 Where have I seen that Zeus style before?
Perseus, played by Sam Worthington (TERMINATOR: SALVATION, AVATAR) arrives at the gates of Argos following the death of his family only to hear Cassiopeia (Polly Walker: SLIVER) bragging that the beauty of her daughter Andromeda (Alexa Davalos: THE MIST) rivals that of Aphrodite (Agyness Deyn) herself.
Hades appears and threatens that Argos will be destroyed by the Kraken (Pauley Shore) in a matter of days unless they sacrifice Andromeda to it. Perseus is sent to find the head of Medusa (Natalia Vodianova) in order to stop the Kraken. His journey leads him on several side adventures that take him towards Medusa and the resolution of his personal hatred of the gods and the god within himself.
In their preparations to leave, a mechanical owl is found – which either was the original prop from the first movie or a reasonable facsimile – but the finder is told "Leave it. We don't need it." I took this as an homage to the original rather than a boast.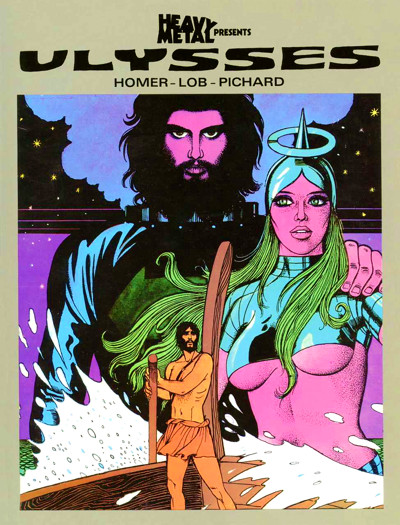 No, no, let me think. It'll come to me...
Now, let's talk CGI. I love CGI. I'm a movie buff, and I even like cheesy CGI, like we saw in the battle scenes in the second MUMMY flick. They make for good stories when used properly, and when used brilliantly, as in AVATAR, can even hide poor storytelling. Or at least story repeating.
The CGI effects in CLASH were good enough so that I didn't stop to think, "I wonder how they did that." Bad CGI will do that to me. While I found myself missing what would now be the kitsch of Harryhausen, the CGI in this film was extravagant and not over or underdone.
But somehow they weren't as scary. Even Medusa didn't quite measure up.
It was a great popcorn movie. Go see it.
I do have a few nits, though. I don't think the screenplay allowed Neeson or Fiennes to show the chops they both possess as actors. They're both top-notch craftsmen. Neeson brought me to the edge of my seat in TAKEN and Fiennes scared the hell out of me in RED DRAGON, just by talking silently and firmly believing everything he did. This screenplay reined Zeus in and made Fiennes too dependent on his hellish CGI cloak. The only one who really got to show off was Worthington. I thought he did a believable job with a difficult character.
A casting nit: Andromeda was supposed to be this great Helenesque beauty, but I thought Gemma Arterton as Io (QUANTUM OF SOLACE) was much more attractive that Alexa Davelos as Andromeda. That might be just a taste thing, though. I think the roles should have been switched.
A side note, two huntsmen with Italian accents that join the party steal the show. They needed more screen time because they could have done more to advance the plot. I could not find the actors from their character names, but I wanted to see more of them, and they left the party just as mysteriously as they joined it.
To sum up: the acting is mercurial, some good, some bad. The director brought nothing really new to the party, but to his credit did not have to stamp himself all over the project the way some big names do. The script is not bad, but certainly not award-worthy, the special effects are good, but not Harryhausen.
The ending turned out to be different from both the myth and the original CLASH; however, I liked it too. It wraps up Perseus's character while at the same time leaving it open for sequels that have the potential to go either way, good or horrible. If they make more, as they are sure to if it succeeds at the box office, I hope we get a new director, a new writer and a new casting director.
But it was fun. CLASH OF THE TITANS was everything I wanted it to be and I had a good time.
Three shriek girls.




This review copyright 2010 E.C.McMullen Jr.