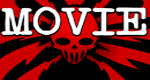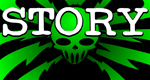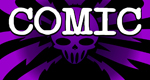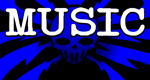 You Support This Site
When You Buy My Books
E.C. McMullen Jr.
PERPETUAL
BULLET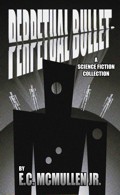 "'Some People' ... may be the standout story in the book."
-

John Grant

, Infinityplus

E.C. McMullen Jr.
WILLOW BLUE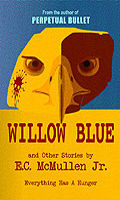 "'Willow Blue' will burrow under your skin and stay there long after you've put the book down."
- Jeffrey Reddick, Creator of
FINAL DESTINATION

IN OTHER BOOKS
E.C. McMullen Jr.'s
short story
CEDO LOOKED LIKE PEOPLE
in the anthology
FEAR THE REAPER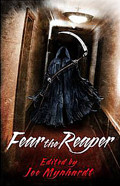 "This Ray Bradbury-esque is one of the most memorable and one of the more original stories I've read in a long time."
- Steve Isaak,
Goodreads

HORROR 201:
The Silver Scream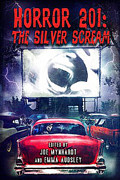 Filmmaker's Guidebook
featuring
RAY BRADBURY,
JOHN CARPENTER,
WES CRAVEN,
TOM HOLLAND,
E.C. McMULLEN Jr.,
GEORGE A. ROMERO,
and many more.



Extensively quoted in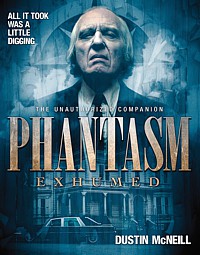 PHANTASM
EXHUMED
The Unauthorized Companion

Robert S. Rhine's
SATAN'S 3-RING
CIRCUS OF HELL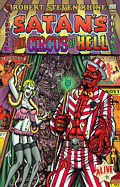 Forward by
GAHAN WILSON &
FEO AMANTE.
Featuring comics by
ALEX PARDEE,
WILLIAM STOUT,
STEVE BISSETTE,
FRANK DIETZ,
JIM SMITH,
FRANK FORTE,
ERIC PIGORS,
MIKE SOSNOWSKI,
OMAHA PEREZ,
DAVID HARTMAN,
STEVEN MANNION,
and more!

And In
CINEMA


E.C. McMullen Jr.


Head Production Designer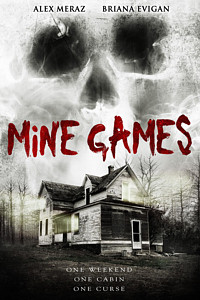 MINE GAMES


(Starring:
JOSEPH CROSS, BRIANA EVIGAN,
ALEX MERAZ)

Dept. head
Special Effects Make-Up
(SFX MUA)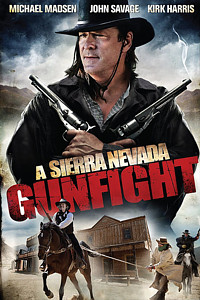 A SIERRA NEVADA
GUNFIGHT
(MICHAEL MADSEN & JOHN SAVAGE).

Production Designer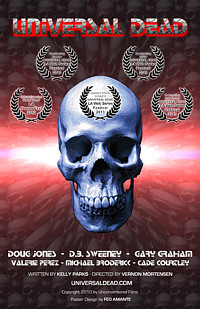 UNIVERSAL DEAD
(DOUG JONES,
D.B. SWEENEY,
GARY GRAHAM)

Art Director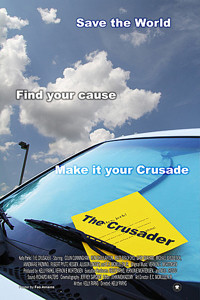 THE CRUSADER
(COLIN CUNNINGHAM,
GARY GRAHAM)
UNFAIR


RACIAL

CLICHE


ALERT
!SPOILERS AHEAD!
101 COINCIDENCES AND COUNTING
URCA:
UNFAIR RACIAL CLICHÉ ALERT
Deadicated to Scatman Crothers
1900 - 1960 - 1970 - 1980 - 1990 - 2000 - 2010
The Unfair racial Cliche really got moving in the 1980s.
Read HOLLYWOOD RACISM


For a complete explanation of what this page is about, please go to the
UNFAIR RACIAL CLICHÉ ALERT
main page.
| | | |
| --- | --- | --- |
| HORROR/THRILLER | HOLLYWOOD THRILLER | NON-HOLLYWOOD HORROR |
Be Alert for These Titles of the
1980s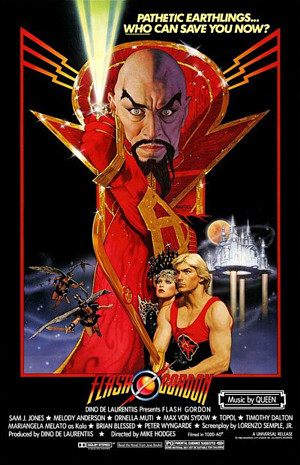 FLASH - 1980
THRILLER
DEG / Starling Films / Universal Pictures
Screenplay: Michael Allin, Lorenzo Semple Jr.
Director: Mike Hodges
Producer: Dino De Laurentiis
Only one black character in this whole flick who has a speaking part and what does it get him? Ming the Merciless makes an example of Prince Thun of Ardentia (George Harris: RAIDERS OF THE LOST ARK, APPETITE, HARRY POTTER), who says that his loyalty to Emperor Ming is, "Without measure!"
Is that a fact? I see that mocking smirk on your face. Fall on your sword! That'll teach you to be so damn loyal!
For a guy who is so damn merciless, Prince Thun is the only one we see Ming kill.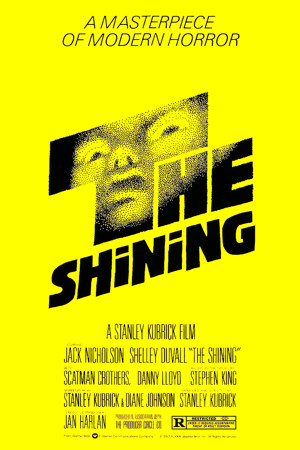 THE SHINING (1980)
HORROR
Warner Bros.
Screenplay: Stanley Kubrick, Diane Johnson
Director: Stanley Kubrick
Producer: Stanley Kubrick
Mr. Halloran (Scatman Crothers in his only Horror movie role) dies a noble if tacked-on unexpected death in the movie, even though he didn't die in the book.
These Hollywood clichés are Powerful stuff!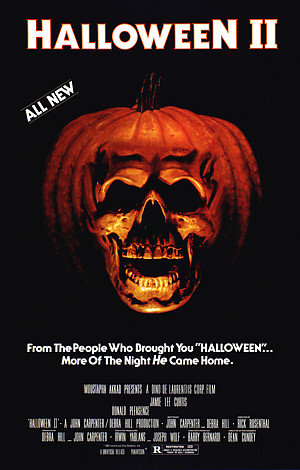 HALLOWEEN II - (1981)
HORROR
Warner Bros.
Screenplay: Debra Hill, John Carpenter
Director: Rick Rosenthal
Producer(s): Debra Hill, John Carpenter
A whole lot of survivors, but among the victims, Night nurse at the clinic, Mrs. Alves (Gloria Gifford in her only Horror movie role), is the only noticeable non-white person in the movie. Certainly the only one with a speaking part.
Oh yeah, she dies.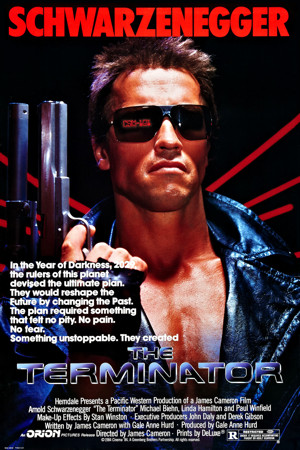 TERMINATOR - 1984
HORROR / THRILLER
Hemdale Film Corporation
Screenplay: James Cameron, Gale Anne Hurd, William Wisher Jr. (additional dialogue), & Harlan Ellison (Terminator inspired by H.E.'s screenplays Soldier, and Demon with a Glass Hand)
Director: James Cameron
Producer: Gale Anne Hurd
Paul Winfield gets blown away by der Terminader. All the black men are killed off in every Arnold Schwarzenegger Horror / Thriller movie. No exceptions.
Then again, actor Paul Winfield often played the black guy who gets killed in every Horror / Thriller movie.
Paul Winfield also died in: DAMNATION ALLEY, STAR TREK: The Wrath Of Khan, THE SERPENT AND THE RAINBOW, MARS ATTACKS!, and more. An awful lot of them.
Small wonder that the man who built his career on "Check it out! I die in this movie!" was chose to play Martin Luther King in the 1978 mini-series, King.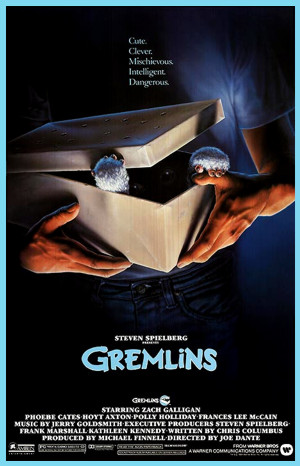 GREMLINS - 1984
HORROR / THRILLER
Warner Bros.
Screenplay: Chris Columbus
Director: Joe Dante
Producer: Michael Finnell
I've been emailed repeatedly about this and, while I know that some folks feel this should get the UNFAIR RACIAL CLICHE ALERT, GREMLINS does not.
This is why -
Yes, actor Glynn Turman (also dies in SUPER 8 and JOHN DIES AT THE END), is the only black man with a speaking part and is killed.
However, the UNFAIR RACIAL CLICHE ALERT isn't focused on movies that kill off all of the black men or even black people. My theory is narrower than that.
For a movie to make the UNFAIR RACIAL CLICHE alert, it has to kill off every single member of every single race (represented by actors with a speaking role or at least a major presence, not some foreground or background extra) leaving only white people as survivors.
Yes, I am being that exclusionary about the URCA. In fact, in order to validate my theory, I've taken an even narrower slice.
If a white actor is playing a character outside of his caucasian race (for example, Welsh actor John Rhys-Davies playing an African Egyptian in RAIDERS OF THE LOST ARK), and that non-white character lives - even though he/she is played BY a caucasian, I still count that as a Non-URCA.
Yet even with all of those exclusions, I've still counted over 100 of these UNFAIR RACIAL CLICHE ALERTS and there REMAINS no end in sight.
There are actually this many Horror Thriller movies, nearly all of them major Hollywood studio movies, and they kill off ALL of the non-whites leaving only caucasian survivors.
So since other people of other races survive in GREMLINS, it doesn't get the URCA.
The fact that GREMLINS is also a comedy may have something to do with it, as a seemingly unwritten rule, all major studio Horror comedies don't adhere to the URCA. Again, because of its overwhelming prevalence, The UNFAIR RACIAL CLICHE treats killing all of the non-white characters as a standardized practice.
I call the URCA a theory because it may not actually exist as a written or unwritten rule, or standardized practice (it could all be the most fantastically remotest of remote coincidences), but the URCA certainly exists like a rule and is definitely a practice.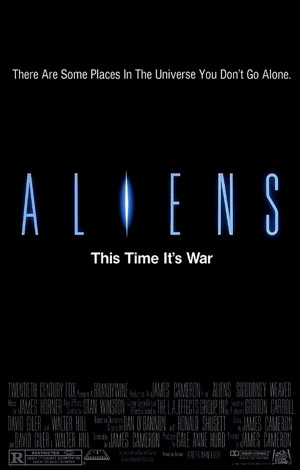 ALIENS - 1986
HORROR
20th Century Fox
Screenplay: James Cameron & William Wisher Jr.
Director: James Cameron
Producer: James Cameron
The Unfair Racial Cliche Alert counts even if you hire a white person to play a minority, as was the case with Jenette Goldstein (NEAR DARK), who played Private Vasquez.
There was also Sergeant Apone (Al Matthews: OMEN III: THE FINAL CONFLICT) and Private Frost (Rico Ross: WISHMASTER). Racially mixed crowd but only 3.5 survivors. All white including the .5 who only looks human.
No, there is no special allowance for the 20 second role of the med tech played by Alibe Parsons. She wasn't a character. She didn't even have a name.
VAMP - 1986
Balcor Film Investors / New World Pictures
Screenplay: Donald P. Borchers, Richard Wenk
Director: Richard Wenk
Producer: Donald P. Borchers
Grace Jones is the evil vampire Katrina. She dies in a pretty cool way, actually.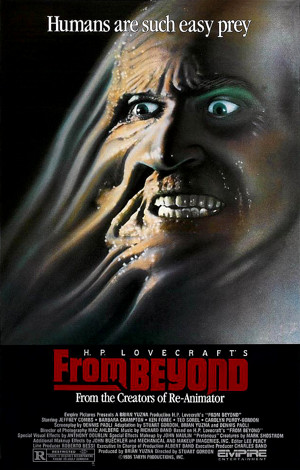 FROM BEYOND - 1986
HORROR
Empire Pictures / Taryn Prov
Screenplay: Stuart Gordon, Dennis Paoli, & Brian Yuzna
Director: Stuart Gordon
Producer: Brian Yuzna
Ken Foree, who created a cinematic first in being the first black man to survive in a horror movie (DAWN OF THE DEAD) is eaten alive by bugs from another dimension.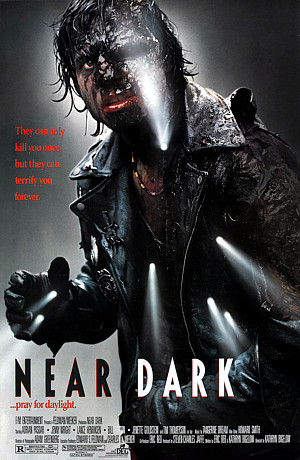 NEAR DARK - 1986
HORROR
F/M / Near Dark Joint Venture
Screenplay: Kathryn Bigelow & Eric Red
Director: Kathryn Bigelow
Producer: Steven-Charles Jaffe
Like so many horror movies made in the U.S., all the non-white actors get killed off in this picture.
NEAR DARK has two minority actors.
Severen kills Lady in Car, actor Theresa Randall.
Roger Aaron Brown (ROBOCOP 2, DNA) you may remember as James Caan's murdered partner in ALIEN NATION (which also earned an UNFAIR RACIAL CLICHÉ ALERT). In this movie he plays a good natured Cajun truck driver who gets his by Mae.
While many movies like this have people of every race getting killed, the fact remains that if you are black and in a U.S. made horror movie, you are going to die! It is one of the major cliches of Hollywood movies that only the black actor/actress gets slaughtered.
What is especially creepy about NEAR DARK is the fact that Caleb and Mae are set up as "the good vampires". They are really victims of the rest of the group. Mae is seen killing only one person in the whole film and he is black. She shies away from killing any white folk. Only the bad vampires kill everyone including white folk. It's a questionable message Kathryn Bigelow and Eric Red were sending.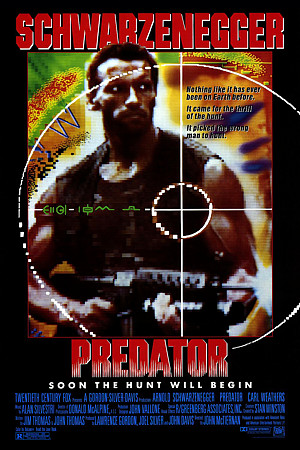 PREDATOR - 1987
HORROR / THRILLER
20th Century Fox
Screenplay: Jim Thomas & John Thomas
Director: John McTiernan
Producers: John Davis, Lawrence Gordon, & Joel Silver
On a rescue mission in Central America, Arnold leaves everyone for dead except Anna (Hispanic actress Elpidia Carrillo) who they find in the jungle. The only male survivor is Arnold. His racially integrated team is wiped out to a man.
The only survivor is a white guy, Arnold again. He saves nobody. In fact, to save time let's just say that if you are a minority male, and in a Schwarzenegger action movie, then you are not a good guy, probably a bad guy, and Arnold is going to kill you personally or leave you for dead. If you are a minority woman then Arnold's character might leave you alive but only if the movie makes it clear that he gets you in the end. This is not a spoiler since this formula remains the same throughout every Arnold Schwarzenegger Horror / Thriller movie ever made!
It would be a surprise if it DIDN'T happen!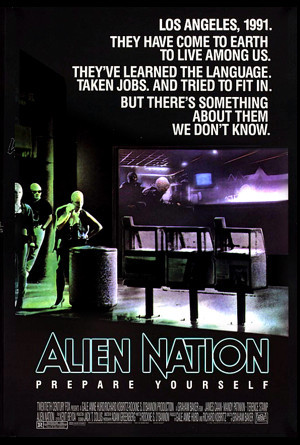 ALIEN NATION -1988
THRILLER
20th Century Fox
Screenplay: Rockne S. O'Bannon
Director: Graham Baker
Producers: Gale Anne Hurd & Richard Kobritz
Det. Bill Tuggle (actor Roger Aaron Brown. His character also dies in NEAR DARK) gets blown away by the criminal Aliens.
THE RUNNING MAN - 1987
THRILLER
HBO
Screenplay: Steven E. de Souza
Director: Paul Michael Glaser
Producer: George Linder & Tim Zinnemann
All the main black actors are butchered. Jim Brown as Fireball - is evil and done away with by Arnold Schwarzenegger. Yaphet Kotto, who was killed off in ALIEN, is a good guy in this movie, but he still dies - though nobly. Once again, Arnold gets the minority woman (Hispanic actress Maria Conchita Alonso) and they walk off together ... hand in hand?
Nope.
They walk off together with Arnold's arm over her shoulder?
Nope.
They walk off together with Arnold's arm around her waist, then?
Nope.
They walk off with Arnold's paw gripped firmly around Maria's neck!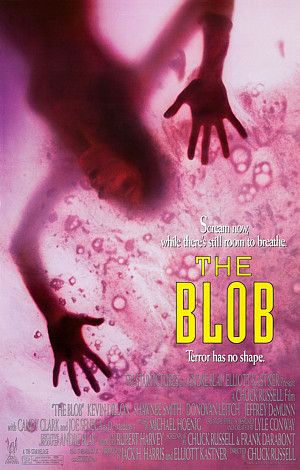 THE BLOB - 1988
HORROR / THRILLER
PalisadesCalifornia / TriStar Pictures
Screenplay: Chuck Russell & Frank Darabont
Director: Chuck Russell
Producers: Jack H. Harris & Elliott Kastner
The only black guy, Joe Seneca, is an evil government scientist who gets sucked into a sewer hole by the Blob; which leaps, and creeps, and glides and slides across the floor.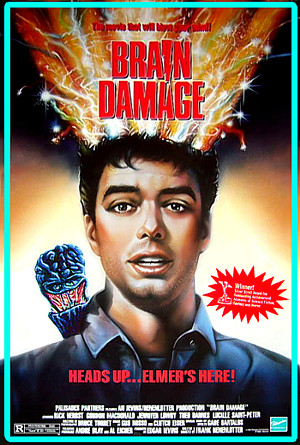 BRAIN DAMAGE - 1988
HORROR / THRILLER
Palisades Partners
Screenplay: Frank Henenlotter
Director: Frank Henenlotter
Producer: Edgar Ievins
There are those who survive their brush with Almer/Elmer, but all of them are white.
All of them.
Non-whites like Night Watchman (Bradlee Rhodes), and Toilet Victim (Michael Bishop) wind up dead.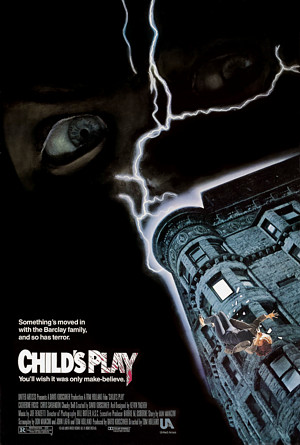 CHILD'S PLAY - 1988
HORROR
UA / MGM Studios
Screenplay: Don Mancini, John Lafia, & Tom Holland
Director: Tom Holland
Producer: David Kirschner
The only non-white character in the movie, a VooDoo Priest by the name of Dr. Death (Raymond Oliver), gets killed by Chucky.
Some fans have pointed out that the brief nameless character of The Peddler was played by Chicago born Latino actor Juan Ramírez.
I have to note that a European Spanish name doesn't have anything to do with a person's race. Also, there was nothing in his scene that denoted he was anything other than white.
At the URCA, I count the race of the character, not the actor. If a caucasian actor is playing an Asian person and that person is killed, that counts as an URCA death.
Also, this is where I repeatedly state the Unfair Racial Cliche Alert as a Theory instead of fact, comes in. Despite my overwhelming evidence, despite the accurate predictability of my theory, it is just my theory. To my knowledge, no one else has attempted to replicate my findings.
What does that mean? What if my personal perception is coloring my judgment? For example -
What if, despite my repeated viewings of CHILD'S PLAY through the years, I somehow missed that The Peddler was "obviously" meant to be a minority?
Was it because I'd hate to think that the only other minority character in one of my favorite movies was cast as a homeless rapist?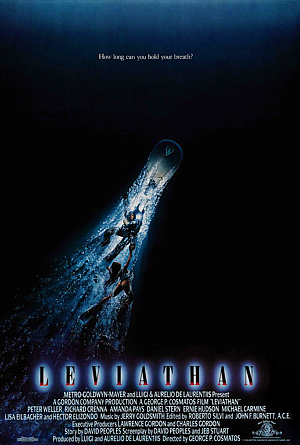 LEVIATHAN - 1989
HORROR / THRILLER
MGM
Screenplay: David Webb Peoples & Jeb Stuart
Director: George P. Cosmatos
Producers: Aurelio De Laurentiis & Luigi De Laurentiis
Ernie Hudson (GHOSTBUSTERS)'s character, Justin Jones, gets killed as an afterthought. A very odd death scene, it's as if the film makers said "Oh yeah! We forgot to kill off the black guy!" and then they do it.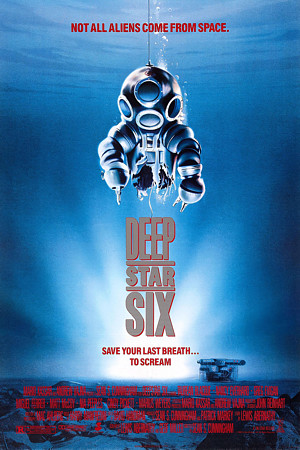 DEEPSTAR SIX - 1989
HORROR / THRILLER
Carolco Pictures / TriStar Pictures
Screenplay: Lewis Abernathy & Geof Miller
Director: Sean S. Cunningham
Producers: Sean S. Cunningham & Patrick Markey
Sole black actor Taurean Blacque's character, Captain Phillip Laidlaw, nobly kills himself so that the two white people can escape. Only survivors are white.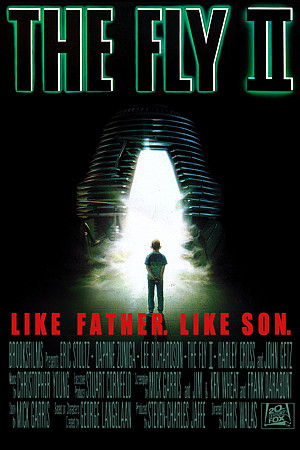 THE FLY II - 1989
HORROR / THRILLER
20th Century Fox
Screenplay: Mick Garris, Jim Wheat, Ken Wheat, & Frank Darabont
Director: Chris Walas
Producer: Steven-Charles Jaffe
Lots of survivors, and I mean lots, of survivors. But there was only one black character with any notable screen time, played by actor William S. Taylor, and he gets accidentally shot and killed by a white guard.